Know What's Going On!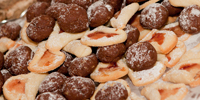 Here at the Baltic, we're always hosting new and exciting events. Check back often to see our most current events and don't be afraid to stop by and discover the authentic Polish-American taste found only at the Baltic.
Please Note...
Our restaurant will be closed for Memorial Day on Sunday, May 28 and Monday, May 29, 2017. We will reopen Tuesday, May 30, 2017.
Due to wedding on Saturday, June 3, 2017 - the restaurant will not be open for that day. We will open on Sunday, June 4. We apologize to our customers for any inconvenience caused and thank you for your kind understanding.