Know What's Going On!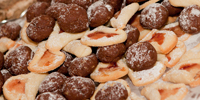 Here at the Baltic, we're always hosting new and exciting events. Check back often to see our most current events and don't be afraid to stop by and discover the authentic Polish-American taste found only at the Baltic.
Place Your Christmas Eve Orders
We are now taking orders for Christmas Eve! Click here to view the menu. When you are ready to place your order - please call Elizabeth or Zofia at (860) 828-9967.
New Year's Eve Celebration
December 31, 2017
Zapraszamy na Sylwestra w stylu Royal Cassino i James Bond w dniu 31 grudnia, 2017 od godz 6:00 do 3:00 rano przy 237 New Britain Rd. , Berlin, Connecticut. Do tanca gra zespol Rzeszowiacy. Cena od jednej osoby 125 dolarow. W cene biletu wliczone sa przystawki, odiad i kolacja podane w familijnym stylu.Szampan o polnocy.Alkohol we wlasnym zakresie. Po informacje i rzerwacje prosze dzwonic pod numer (860) 828-9967 prosic Elzbiete lub Zosie.
We are inviting you to celebrate the New Year's Eve in Royal Casino and James Bond style on December 31, 2017 from 6:00 to 3:00 am at 237 New Britain Rd., Berlin, Connecticut. Music by band Rzeszowiacy. $125 per person. BYOA. The ticket price includes: appetizers, dinner, evening meal all served as a family style. Complimentary Champagne toast at midnight. For information and reservations please call (860) 828-9967 Elizabeth or Zosia.